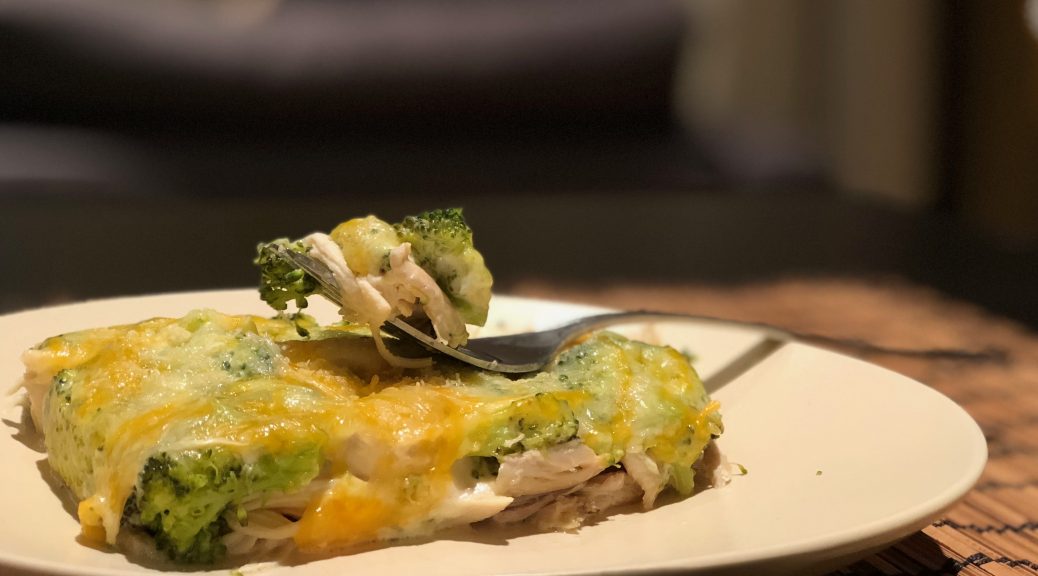 Chicken and Broccoli Bake
This recipe came from my first stint in Doha. I was living alone at the time and looking for cookbooks that featured quick and easy recipes.  After a quick google search I came across 'The healthy College cookbook' and 'Cooking for One'. I used  I never got around to using 'Cooking for One' the book until a few days ago.  Based on the first impressions, this book is actually quite promising.
The book starts off with some education on the kitchen and on ingredients. From there, recipes are divided into categories such as breakfast, meat & poultry, and desserts & baking to name a few. The organization is really well done, the recipes in each category are further divided into more time and less time, which makes searching a little easier when you just want a quick bite to eat.
After scanning the recipes, I chose to make the Chicken-Broccoli Bake from the less time section of meat and poultry. The dish itself is simple and quick as promised by the book.  I would have liked a little more flavour in this one, but overall it's a nice and easy dish. I would cook this again, but the next time I'd play around with the recipe a bit  to give it more flavour. I think adding a little curry powder to the mayo / crème fraiche would do the trick.
Chicken and Broccoli Bake

Ingredients

100 grams shredded cooked chicken  (about 1/3 cup)
50 grams chopped broccoli (about 3 Tbsp)
1 Tbsp crème fraiche
1 Tbsp mayonnaise
salt and pepper to taste (I forgot this one – probably why I found was craving more flavour!)
1 Tbsp of mature grated cheddar (I used pack of grated cheddar-monteray jack mix)
1 Tbsp of grated parmesan cheese
1 Tbsp of breadcrumbs

Preheat the oven to 190°C. Prep a single-serving size oven dish and layer the ingredients.  First the chicken, use a spatula to press it down a little.  Chop up and  rinse the broccoli. Fill a medium saucepan with water and bring to a boil. Add the broccoli and cook for about 6 minutes. Remove and drain.  Add 50 of broccoli to the oven dish to make the second layer, press it gently into the dish using the spatula. If you're lacking a scale, just make sure there is enough chicken and broccoli to form a full layer each.  Chances are you'll have extra broccoli left over after this.  You can use the excess in other dishes later.

Mix the crème fraiche, mayonnaise, slat and pepper. Spread this over the broccoli layer. Add a layer of cheddar-monteray jack cheese, followed by the parmesan and breadcrumbs. Bake in the oven for 20 minutes.  Serve right away and enjoy!