From Ramadan to Summer Break and Everything in between
From Ramadan to Summer Break and Everything in between
When I made my last post, I had planned to do a daily blog on the experiences of fasting during Ramadan while living in a Muslim-majority country.  However, things got busy and it never actually happened. I did fast during every day of the month, and I also finished the Quran during that time as well.  Though, regarding the Quran, I should disclose that I wasn't reading a physical book.  I was listening to audio with subtitles on youtube each night. However, there is more to Ramadan than just fasting and reading the Quran.
Ramadan in General
Ramadan is considered a pillar of Islam, However, young children, the elderly, pregnant, or sick are not required to fast.  And if it's that time of the month, fasting is actually forbidden.  Again, there is much more to the month than enduring a fast.  It is intended as a time of spiritual reflection, and it is to meant approached with what is known as Niyyah – an intention to bring yourself closer to God through your actions. This is central to the act of prayer and fast and is especially at the forefront of your daily interactions with those around you.  This was tough for me because I realised that while I'd go through the same hunger as my students, my girlfriend and the majority of people around me, I would not truly share the same experience because I lack Niyyah. That said, I did my best to keep my temper and be extra polite to those around me over the course of the month and in my own way it was a reflective time for me.  Qatar itself has its own traditions surrounding the month of Ramadan.
Ramadan in Qatar
The break in fasting is announced via cannon-fire in Qatar, and they have places in Doha where people can go to see the cannon fired in person.  This is done in recognition of the past when canon-fire was the quickest way to notify people over large areas that the sun had set and it was time to eat. You'll also find people giving out little snacks to break fast at the traffic lights during the hour leading up to sunset.  In the evening hotels and restaurants host iftars – evening meals intended for breaking fast.  When done by the hotels, an iftar tends to be a buffet with a mind-boggling selection of food. Despite the fasting, a number of people who live in Qatar say they have often gained weight by the end of Ramadan! Just before the end of Ramadan this year I met my girlfriends family in Indonesia, and I finished the holy month together with them.
Indonesia
I had a fantastic time in Indonesia, my girlfriend's parents and her family were very warm and welcoming towards me.  Initially, we were considering a trip to the Komodo Island National Park, but we just didn't have enough time to do it. So instead we went to Yogyakarta and enjoyed seeing the temples and eating the local food which is always a treat for me.  We also got to see the sun rise at the base of a volcano that last erupted about 15 years ago. From there it was back to Jakarta for her dad's birthday and then Doha to teach summer classes.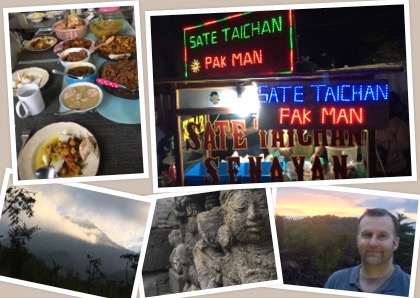 Summer School
This summer I was assigned to teach a course called 'English for Communication I'.  Normally this course would be taught over a five month semester, however, in the summer, that is condensed into a month.  This is accomplished through increasing the number of classes per week and the actual class time so that the instructional hours remain consistent.
This summer I was assigned to teach girls.  The class sizes were big, during a fall/winter semester I usually have about 20 students in my class, but this time I had over 30 students.  Luckily I was able to draw upon my teaching experience in Korea public schools where class sizes were usually close to forty.  The key, in this case, was setting up the room. So I created islands of 4-5 students which would allow for speaking activities during class.
The students themselves were excellent. I find that over here the students get a bad rap.  I've taught the full spectrum of post-secondary students in Qatar between the two institutes where I have worked. And what I have noticed is that an ounce of prevention is truly worth a pound of cure.  Early on I make sure the students know that I'm invested in their success, specifically that my goal for the course is for them to finish the class with a passing grade and a smile on their face.  The main challenges I dealt with during the summer were actually outside the classroom.
Summer in Qatar
It's hot outside, and I mean h-o-t.  The average temperature in the summer is in the upper mid-40's. Most of the time it's not an issue because you're just walking from the car to some air conditioned building.  However, I got my first flat tire this summer, and I got to enjoy a full hour outside.  Luckily the flat happened late at night when the temperature was ONLY 41°C!  So I had to get the car towed to the service because the tire was too damaged to plug and the dummy tire wasn't safe to drive at higher speeds.
So a day later I came back, got my car and promptly had my first accident in Qatar when a bus knocked a small Suzuki into the back of my car when we were stopped due to a traffic jam. My car's rear bumper took some damage, but the Suzuki was wrecked. This lead to a trip to the insurance company to file an accident report.  I plan to take the car in to get the bumper fixed in September, there was just no time to get it done because, in addition to teaching a class, I was also moving into my newly-assigned university accommodation!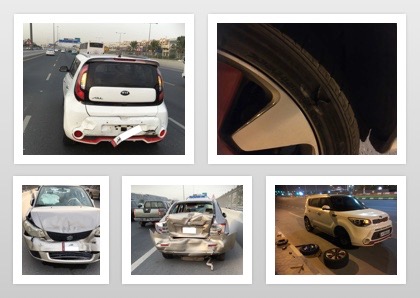 New Apartment
I received my new apartment from the university in mid-July, and I absolutely love the place.  I really got lucky teaching the summer class because it meant I was around to take the place when it became available. Had I not been here, I would not have gotten it.  The apartment itself is a cosy one-bedroom that overlooks the canals in a Venice-themed neighbourhood at the Pearl in Doha.  My place actually sits at the corner of a 4-way canal intersection and has a great view.  The apartment had some paint and plaster damage when I initially moved in. It was also unfurnished, so the first thing to do was to get some people to come in and do repairs.  After that, I was able to get a nice used bed frame, and my girlfriend found a nice used sofa.  Everything else was bought new.  Thankfully the university provides a generous furniture allowance was enough to cover all the costs.  With the summer class, car troubles and the new place it's been hectic, and I'm happy to finally have the time to sit down, relax and enjoy a well-deserved break.